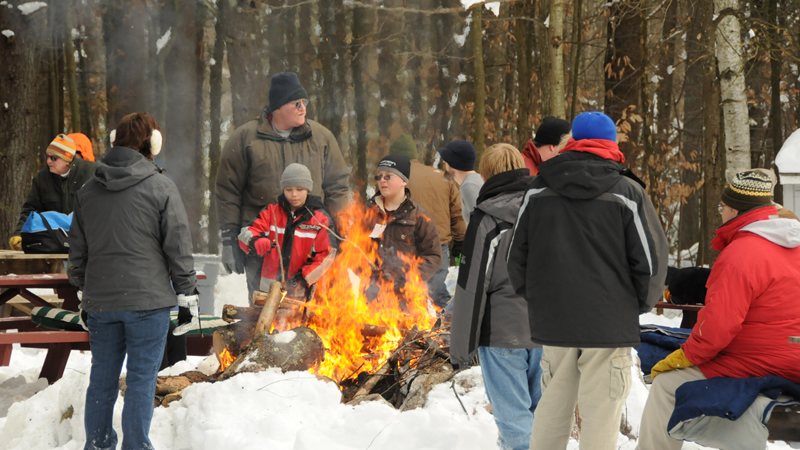 Buy Logging Sleds Ticket
$22 Per Person Buy Now
$280 Private Sleigh Buy Now
December – March
Children 23 months and under FREE
Click BUY NOW above for available times
Get away from the hustle and bustle…..noisy traffic, city lights and those confounded electronic devices! Climb aboard and travel old logging trails into the snow-covered forest. During daylight rides you'll pass by the grazing cattle and horses in our winter pastures. You'll have the opportunity to see our North American wildlife exhibits which include black bear, wolves and mountain lions. And be on the lookout for native turkeys, foxes, coyotes and deer. Some of our guests have even been fortunate enough to even see a moose!
We tell folks to plan on being with us for about an hour and a half. The sleigh travels for about 40 minutes before making a stop over at a bonfire we maintain in the woods. Guests love warming up and enjoy refreshments they they have brought along by the fire. Hot dogs, the fixin' for s'mores and liquid refreshments are all popular items to bring along. Don't worry though. We'll provide the sticks for roasting over the open fire!
You have two options for this sleigh ride. You can purchase individual tickets and travel with others or you can purchase the whole sleigh as a private ride for just your friends. This is also a marvelous tool for your company's team building efforts, a corporate outing, or just a unique and fun get together.
About the Logging Sleds
In the old days, the runners on these sleighs were used to carry huge logs out of the forest. Now we have constructed a large body on top of the sleigh runners that will carry up to 16 passengers. We recently added bench seating and steps with rails up onto the sleigh to make the boarding and riding process even more comfortable for those "not as flexible" as the young kids! You're going to love it.
Group Reservations
If you are looking to plan a sleigh ride for a large group be sure to call us. We have many sleighs, offer catering and have a warm-up room available. We are always willing to customize our rides. For more information please call (603 483-5623) or email John to discuss options.
You Should Know:
"Check in Time"
You will be asked to select a time while purchasing your ticket(s). Our staff CANNOT check you in any earlier than 15 minutes before your chosen time. If you arrive LATER than your chosen time you will not be able to participate in the event.
Dress appropriate for outdoor weather. Hats, scarves, mittens, boots and a warm coat are important. Consider bringing along a blanket. We find sleeping bags work great.
You may bring along additional refreshments and beverages if you wish.
Plan on being at the farm for approximately 1.5 hour.
Sled Runners or Wheels?
The condition of our trails determines whether or not we use sled runners or wheels.
(Sleighs need a 6 inch base of packed snow.)