New Year's Eve Ride
We're Cookin' on the Grill
Homemade Chicken Noodle Soup
Served with Crackers
Assortment of Chocolate Treats
Hot Cocoa & Bottled Water
Come Celebrate with us!
Experience the enchantment of a New Hampshire New Year's Eve with a magical horse-drawn sleigh ride through a winter wonderland. Hop aboard a cozy sleigh guided by our majestic horses, setting the stage for an unforgettable celebration. Delight in the crisp winter air, the jingling of sleigh bells, and the breathtaking scenery. Whether you're cuddled up with loved ones or sipping on warm cocoa, this timeless tradition captures the essence of a New England winter, making it a perfect way to ring in the New Year with charm and elegance.
Don't miss the opportunity to create cherished memories on this quintessential New Hampshire adventure. Holiday lights will illuminate the night around your sleigh as you and your loved ones ride into the New Year!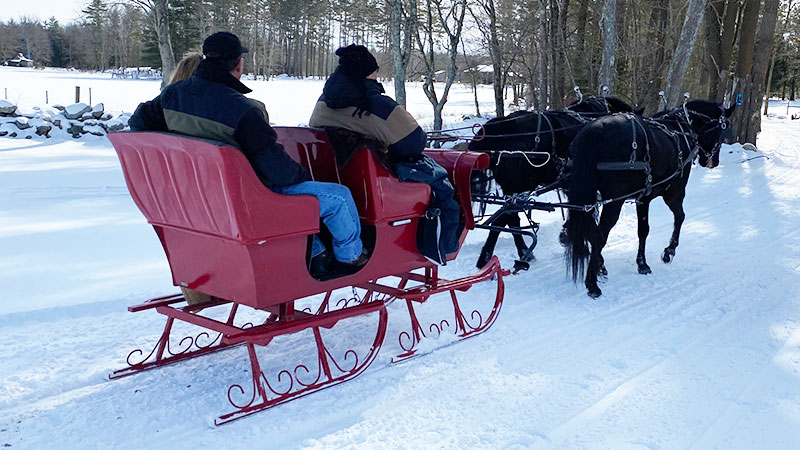 Romantic Sleigh
$249 per sleigh
Up to 2 passengers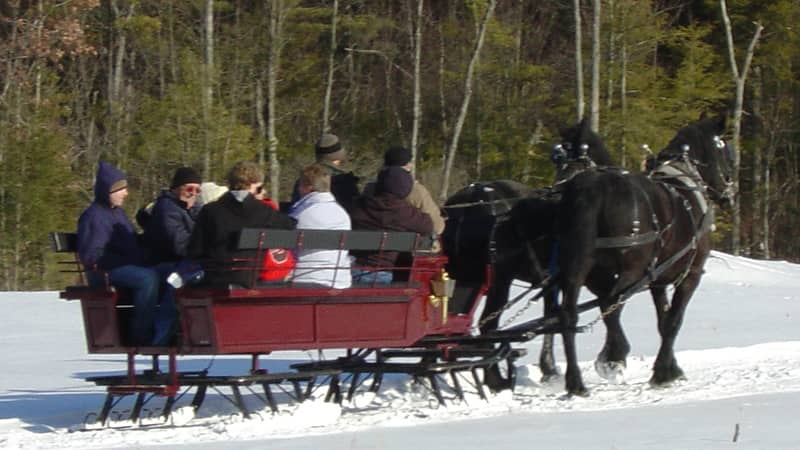 Meadowbrook Sleigh
$429 per sleigh
Up to 10 passengers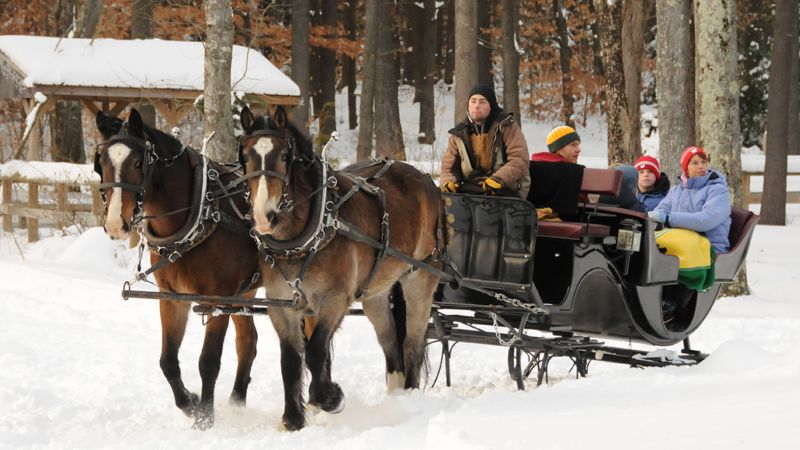 Vis-A-Vis Sleigh
$299 per sleigh
Up to 4 passengers
Horse-Drawn Rides


Climb aboard the sleigh of your choosing and our draft horses will take on a tour of our Ligthed Wintery Trail. Listen to the sounds of the sleigh bells and enjoy the ride. Bring along a blanket and be sure to dress for the outdoors.
---
Holiday Trail


We will turn on the lights along our Holiday Trail. Enjoy seeing the seasonally decorated scenes during your Horse-Drawn ride.
---
Live Reindeer

The horse-drawn ride will travel through Charmingfare Farm's North Pole passing the reindeer barn. The sleigh will stop allowing everyone the a chance to see Santa's reindeer.
---
Visit the Barnyard


Our Barnyard animals are waiting to see you either before or after your ride. Animal Feed cups can be purchased at the Gift Barn to have a hands-on experience feeding the animals.
---
Barnyard Campfire


We will have complimentary Hot Cocoa available beside the Barnyard Campfire. S'more Kits are available for purchase to enjoy around the campfires. There are picnic tables surrounding the fire. You may bring along additional refreshments if you wish.
The ride will happen REGARDLESS OF SNOW. If trail conditions are not suitable for sled runners we will use an appropriate wheeled vehicle.

Be sure you have reviewed which booking option you have selected and each rides capacity.

Please be sure to review our Policies especially regarding WEATHER.

You should plan on arriving 15 minutes prior to your selected time. Unfortunately, if you arrive late you will forfeit your ride.

Dress appropriate for outdoor weather. Hats, scarves, mittens, boots and a warm coat are important. Consider bringing along a blanket. We find sleeping bags work great.

You may bring along additional refreshments and beverages if you wish.

Plan on being at the farm for approximately 1.5 hours.