Lighted Winter Wonderland
Buy Lighted Winter Wonderland Ticket
$25 Per Person
December 2017
1, 2, 8, 9, 15, 16, 17, 21, 22, 23 & 24
Click BUY NOW above for available times
Children 23 months and under FREE
Experience the magic of Christmas when you visit Charmingfare Farm this holiday season.
Horse-Drawn Ride
Christmas Lights
Holiday Displays
Nativity with Live Animals
Costumed Characters
Petting Zoo
Santa & Reindeer
Christmas Trees Available for Purchase
You'll travel 30 minutes in a horse-drawn ride through thousands of lights on your way our little North Pole. There are about a dozen holiday displays along the way. Be sure to keep an eye out for the Grinch along the trails.
This year Santa has planned a special surprise. He has invited his costumed friends to visit with your children at the North Pole.
Be sure to bring along your letters!
Plan on at least 2 hours to experience Lighted Winter Wonderland.
Plan for 2 Hours
The ride to the North Pole is 30 minutes.
You will visit costume characters and Santa in the Reindeer Barn.
There is a campfire for Hot Cocoa & Smores (additional fee).
A Tractor Train Ride will take you back to the begining when you are ready to leave.
Visit with many of our animals including the petting zoo in the Oakhurst Dairy Discovery Barn.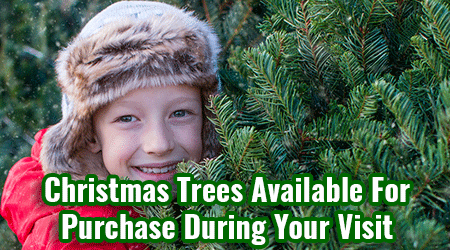 You Should Know
When selecting a time please note we consider this to be a "Check-In" time. These times help us manage flow during events and are NOT to be considered a reservation or boarding time. Please do not arrive any earlier than your chosen time.
We cannot guarantee any one particular costume character will be present during your visit.
The North Pole has Hot Cocoa, Smore's Kits and Reindeer Food available for purchase.
Sled Runners or Wheels?
The condition of our trails determines whether or not we use sled runners or wheels. In order to operate the larger sleigh we need a 6 inch base of packed snow. If there is insufficient snow for the sleds to travel on the trails we will use a wagon .
"The 7 grandkids had an awesome time!"

This past weekend my party of 17 took the horse drawn wagon ride to see the Holiday lights! The staff was very courteous and made sure that we were all together on the same ride. The lights were beautiful. The 7 grandkids had an awesome time seeing the Grinch in the woods, meeting Santa and the other characters, toasting marshmallows by the fire, drinking hot cocoa, and petting & feeding the animals. They were having so much fun that no even noticed that it was only 20 degrees outside with hand warmers in their mittens! We would definitely do this again! It was a great way to spend and evening together as a family!
"Holiday Sleigh Ride"

This was a wonderful holiday experience for our family! We loved warming by the bonfire and seeing all the beautiful displays. This is definitely something we look forward to making a holiday tradition.
"Started the Tradition"

My family started the tradition of the Lighted Winter Wonderland every December. We drove 1 hour 45 minutes to visit. We had a blast this past Saturday. The staff was incredibly kind and offered to take multiple family photos for me without me asking. Santa and all the other characters were amazing. The best part was being able to feed Santa's Reindeer and the horse drawn sleigh ride.
"Incredible Time"

My family and I had an incredible time at Charmingfare Farm this past weekend! The kids got to meet the Grinch and drink hot cocoa and dance with Santa! The horse ride through the woods was amazing as well! We couldn't have asked for a better day! We'll definitely be back! 🙂
"It was wonderful and a great experience for all of us"

The children had a great time—thank you so much for your wonderful Christmas Wonderland."