Santa's Christmas
Dates & Time

Package Must Be Purchased ONLINE
December 2022
Sat 3 & Sun 4
Fri 9, Sat 10 & Sun 11
Fri 16, Sat 17 & Sun 18
Christmas Week
Wed 21, Thur 22 & Fri 23
Christmas Eve Sat 24
Various Departures – Day or Evening
Christmas Eve – Santa's Horse-Drawn Ride
Christmas eve is always the most amazing time for children to visit with Santa at the Reindeer Barn. If you wish to visit on Christmas eve be sure to book your ride as soon as possible.
For this event you have 2 different options to choose from when making your booking.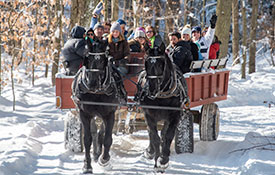 Horse-Drawn Ride
Up to 16-20 passengers
We divide our horse-drawn vehicles into two sections. Consider each section a package that will seat 10 passengers, mixture of children and adults or 8 passengers if all adults.
A PRIVATE Horse-Drawn Ride requires 2 packages to be booked in order to have the entire vehicle.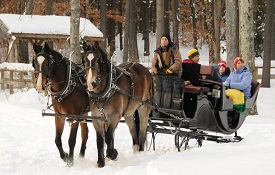 Vis-A-Vis Ride
Up to 4 passengers – Private Ride
This is Santa's VIP horse-drawn ride to the visit him at Charmingfare Farm's North Pole.
If you choose to book this ride it is extremely important that you are checked in at our loading area at the time you have selected. This ride keeps a very tight schedule.
Horse-Drawn Rides


A pair of draft horses weighing over a ton each will take you along a holiday trail to the North Pole. Listen to the sounds of the sleigh bells and enjoy the ride. Bring along a blanket and be sure to dress for being outside.
---
Live Animal Nativity


Along the way you will pass by Charmingfare Farm's Live Animal Nativity. What a great way to take a moment and remember the reason for the season.
---
The North Pole


Before you know you'll arrive at Charmingfare Farm's North Pole. There's a whole lot going on here… enjoy your stay.
---
Mrs. Claus' Bakery


Complimentary Sugar Cookies and Hot Cocoa will be provided by Mrs. Claus or one of her helpers.
---
Santa Claus


Santa will be waiting for families at the Reindeer Barn in his new office. This year Santa will be presented to your family with a safety barrier.
---
Letters for Santa


Santa will have a North Pole mail box available for letters. Be sure to have your children bring along their letter.
---
Santa's Live Reindeer


The deer love being fed. Don't forget to save some Animal Feed for them!
---
Tractor Train


When you're ready to go just climb aboard the Tractor Train and it will bring you back to the starting point.
---
Visit the Barnyard


Our Barnyard animals are waiting to see you either before or after your ride. Grain cups can be purchased at the Gift Barn to have a hands-on experience feeding the animals.
---
Campfire


Smore Kits & Hot Cocoa are available for purchase to enjoy around the campfires. There is one in the loading area beside Oakhurst Dairy Discovery Barn and another at Charmingfare Farm's North Pole.
---
Holiday Gift Barn


Our shelves are stock with wonderful items for gift giving and decorating. A wide array of Douglas plush animals for every age, popular Crossroads Candles in holiday scents, seasonal decorations to deck your halls, local maple and honey products, and much more.
---
Picking the Tree


Fresh Cut Christmas Trees


• Fraser Firs 6′ to 8′


• Balsam Firs 6′ to 8′
Select ANY tree for $75 during your visit (while supplies last).
The ride will happen REGARDLESS OF SNOW. If trail conditions are not suitable for sled runners we will use an appropriate wheeled vehicle.

You CANNOT have any more than 10 passengers in one package. Anyone (child or adult) 24 months or older needs to be accounted for in your numbers. Children who are 23 month or under are free and are not counted in our numbers.

You should plan on arriving 15 minutes prior to your selected time. Unfortunately, if you arrive late we may not be able to accommodate you.

You should plan on being with us for approximately 1.5 hours.

We cannot guarantee any one costume character will be present during your visit.

Farm closes 1.5 hours after our last scheduled "check-in time" of the day.