Children's Trick or Treat
$0.00 – $22.00
Children 23 months and under FREE
Military Personnel, Active or Retired $5/Ticket

Children's Trick or Treat
Dates & Time:

Tickets Must Be Purchased ONLINE
October 17, 18, 24, 25 & 31, 2020
Considering all the uncertainties and challenges surrounding COVID-19, Children's Trick or Treat has totally changed for 2020.
This event is perfect for little ghouls and boils who don't wish to be frightened but still want the excitement of wearing their favorite costume and having a fun filled Halloween adventure. This event is merry-not-scary!
Halloween Juggling Spectacular!
Featuring Jason Tardy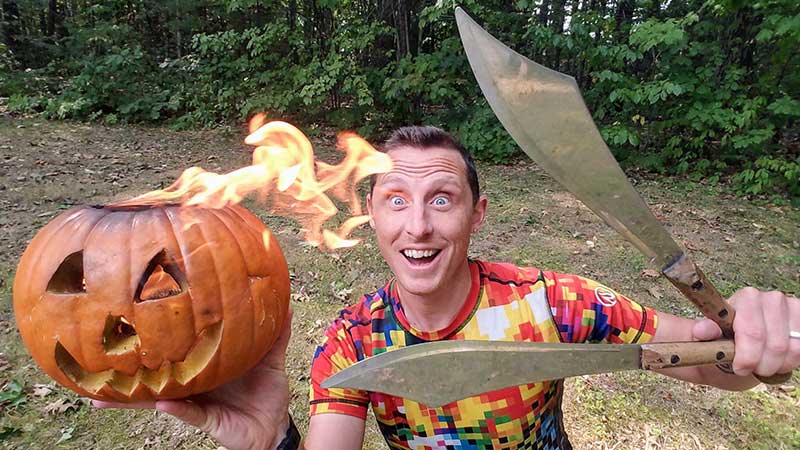 You may have seen juggling, but you haven't truly experienced it until you've seen the explosive, inventive juggling of Jason Tardy!
In this Halloween themed performance, Jason will amaze you by juggling flaming pumpkins, reading your mind, and even eating and breathing fire!
After the performance, Jason will have juggling ball sets available for purchase for only $5 and will teach a juggling lesson for those interested.
Jason's multifaceted training and over 25 years of experience in the performing arts has brought him all over the US and abroad. Some highlights include Disney Cruise Ships, the Atlantis Resort in the Bahamas, the Golden Phoenix Casino, and even The White House in Washington DC three times!
For more information visit: JasonTardy.com/Show
Barnyard Candy


Look for our costumed characters while scrolling through the Barnyard. Have your candy bags ready to collect some sweet treats.
---
Witch in the Woods
Be on the lookout for our witch who lives in the woods amongst our North American Wildlife exhibits. Our friendly witch will be sure to have tricks and a very special treat for you.
---
Visit the Barnyard Animals


The Barnyard Animals are available to visit either before or after your ride.
---
Pumpkin Patch Ride


Either the Tractor Train or Horse Drawn Wagon will be available to take you a 15 minute ride to the Pumpkin Patch. The ride will so so you can explore the patch for that perfect pumpkin.
(Ride is free, pumpkins sold at market price)
---
Pumpkin Art


Children can decorate their own pumpkins. This year each child will receive their very own individually packaged pumpkin decorating kit. Staff will be on hand to assist with pumpkin creations.
($8 when purchased online, includes a sugar pumpkin)
---
Pony Ride


Take our trail ride into the forest to see our friendly wolves and look for treats along the way.
($8 per ride when purchased online)
---
Children Wagon Rentals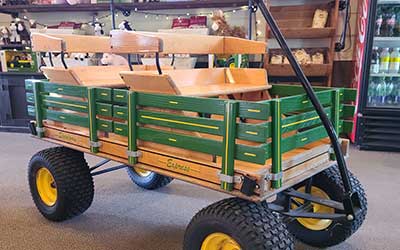 During your visit, you may ask about renting one of our wagons. Children love riding around the farm in one of these special wagons.
COVID-19
It is extremely important for the safety of everyone you take a moment and read our requirements.
You Should Know
"Check in Time"
Example: 1:00pm → 2:30pm
Your check in time in the example above is 1:00pm. Our staff CANNOT check you in any earlier and arriving LATER will not allow you time to participate. We expect you will be with us for a time span of 1:00pm → 2:30pm.
You should plan on being with us for approximately 1.5 hours.
FAQ
Question: How do I know what DATES & TIMES are available?
Answer: Choose a ticket option in the first drop-down box, then "Pick a Date". Under the "Pick a Schedule" drop-down you will be presented with times and availability. If you wish to purchase continue the booking process to the checkout page and complete the transaction.
Event Employment
Often we have various employment opportunities available for events we offer through the year.