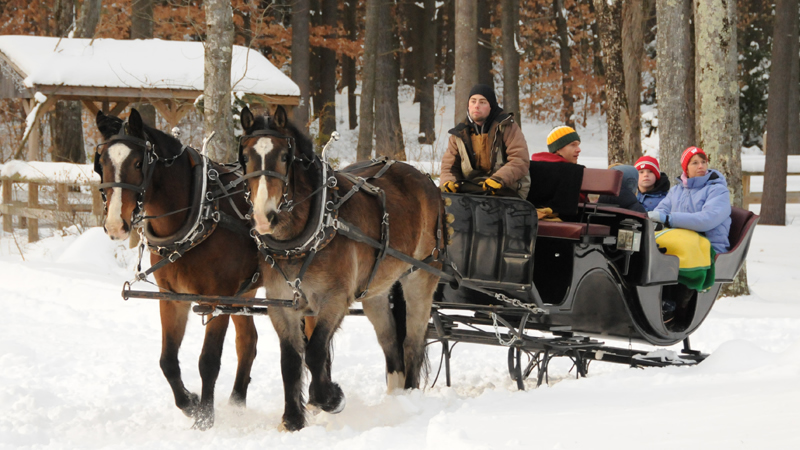 Buy Vis-A-Vis Sleigh Ride
$175 Per Sleigh
December – March
1 hour experience
Each sleigh can carry up to 4 passengers
Click BUY NOW button above for available times
Perfect for Romantic Couples and Small Families
Imagine just you and your sweetheart, snuggled up close and cuddly under the blankets as the horses bring you for a leisurely and romantic sleigh ride on the Charmingfare trails. As the sleigh is smaller, it is able to head off on the farm's secondary trails too and that's where you are more likely to see native turkeys, foxes, coyotes and deer. Oh my! Perhaps you even steal a kiss as you travel deeper in the woods!
The Vis-A-vis sleigh doesn't have to be totally about romance, though we find evenings are more popular for adults. But its a fun family experience too, especially during the day so the kids can see the animals! (Just make sure to leave those cell phones in your pocket so you and the kids can bond!)
We do provide a sleigh robe to cover up during your ride. Additionally, we suggest you bring a blanket in really cold weather to assure you stay toasty warm. Bring refreshments on your ride too. They do best in a travel mug.
About the Vis-A-Vis Sleigh
Vis-A-Vis means "face to face", and with the two seats facing each other this sleigh is appropriately named! Carrying up to four passengers, the vis-a-vis sleighs are a re-creation of an 18th century style sleigh complete with antique lamps, cloth seats and the overall ambiance of an 18th century sleigh.
You Should Know:
"Check in Time"
You will be asked to select a time while purchasing your ticket(s). Our staff CANNOT check you in any earlier than 15 minutes before your chosen time. If you arrive LATER than your chosen time you will not be able to participate in the event.
Dress appropriate for outdoor weather. Hats, scarves, mittens, boots and a warm coat are important. Consider bringing along a blanket. We find sleeping bags work great.
You may bring along additional refreshments and beverages if you wish.
Plan on being at the farm for approximately 1 hour.
Sled Runners or Wheels?
The condition of our trails determines whether or not we use sled runners or wheels.
(Sleighs need a 6 inch base of packed snow.)