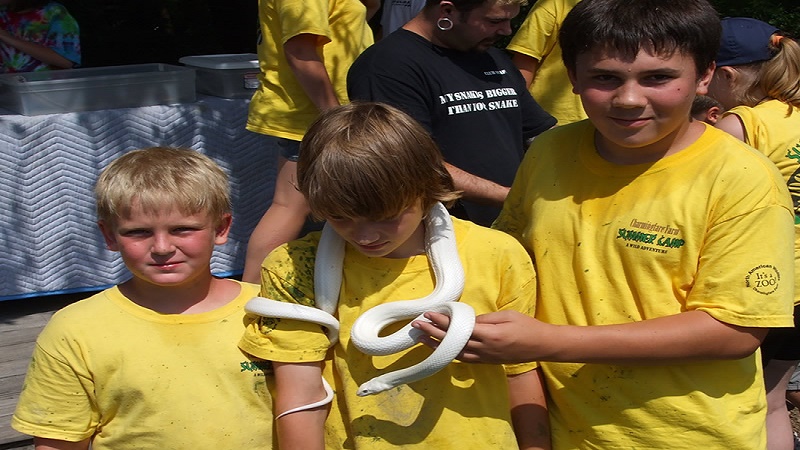 Buy Summer Camp Ticket
$429 Per Child
Check Back for 2019
Monday-Friday (8am to 5pm)
Children 7 to 16 years old
Click BUY NOW above for available times
Horsemanship and Animal Adventure
Charmingfare Farm is the perfect place for your child (between 7 and 16 years old) to learn and develop some skills working around animals. All campers have the opportunity to participate in both the Horsemanship and Animal Edventures experiences each day during their week of camp.
Horsemanship
Charmingfare farm boasts a wide variety of equines including adorable miniature horses, ponies, donkeys, mules, saddle horses and powerful draft horses. During the week, campers will learn the different types of horses, and will be provided the opportunity to gain hands on experience in grooming, tacking, riding, and generally caring for horses of all kinds.
The riding program features a selection of friendly and experienced horses that are perfect for all comers. Campers will be expected to wear long pants, a 1/2-3/4 inch heel, and a helmet which can be provided to them during horseback riding. Each camper is given the opportunity to ride four times during the week.
Campers will do a "Create-Your-Own-Barn" project using the knowledge of what a horse needs and how to care for it.
Activities Include:
Horseback Riding (four times)
Tacking Horses
Grooming and Bathing Horses
Drive a Team of Draft Horses
Mini-Horse Walks
Create-Your-Own-Barn Project
Demonstration by a Licensed Farrier (horse shoer)
Animal Edventure
A complete "hands-on" and "behind the scenes" experience. Everyone will get a chance to pitch in and help feed all the animals living at the farm. There's so much to learn about all these animals. Our animal care staff love sharing their knownlegde.
Kids will be thrilled as they assist zoo keepers care for, mountain lions, wolves, black bears and the rest of our wildlife. What an awesome way to learn first-hand the responsibility and dedication required to take care of these incredible animals.
Activities
Develop Basic Animal Husbandry Skills
Animal Training
Llama Treks
Predator Prey Games
Reptiles and Raptors
Preparing Diets and Feeding Wildlife
Philosophy & Mission
Enriching your childs life journey by nurturing their creativity, zest for knowledge and love of adventure. The goal of Charmingfare Farm?s day camp program is to give your child a fun, safe, educational, non-competitive, up-close experience with our animals, other campers and staff. The program aims to enhance self-esteem, encourage responsibility and promote clear communication while making friends — human and animal — and learning new skills.
Counselors
Charmingfare Farm strives to maintain a small ratio of campers to counselors, usually 1-10, allowing for special attention while preserving safety in a group setting. Our counselors are always adults and NH State Police Criminal Background checks are required for all counselors.
Communication
The ultimate key to optimizing your child's time with us is constant feedback between counselors and campers as well as keeping an open channel with parents and caregivers. Many parents are surprised at the areas their children excel in and appreciate knowing the skills their children have enjoyed during the day.
Be Prepared
Appropriate clothing for all weather types, including a second set, if desired. Packed lunch and adequate beverages for the day (beverages can be purchased from gift barn on the property). There is refrigeration available. For horseback riding: Long pants; appropriate sturdy, smooth soled footwear with a slight heel (no sneakers or open toe shoes); You may bring an ASTM F1163 approved helmet or one will be provided.
More Considerations