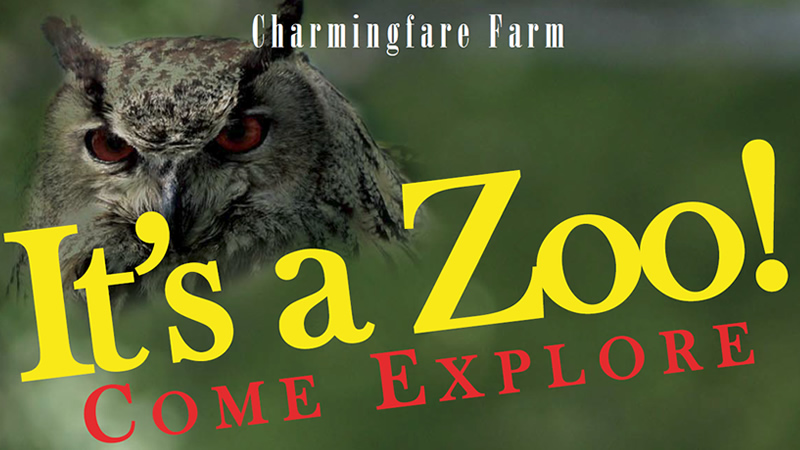 VISIT OUR ANIMALS
MAY
JUNE-AUG.
SEPT.
Sat & Sun
Tues – Sun
Sat & Sun
10am – 4pm
10am – 4pm
10am – 4pm
Open Memorial Day
Closed Mondays
Open Labor Day
Charmingfare Farm is home to many traditional agricultural animals you would expect to see on a farm. Children will enjoy the Oakhurst Dairy Discovery Barn, home to our large hands-on petting area. After visiting with the farm animals you will follow the paths leading into the woods and there you'll encounter our wildlife exhibits; home to some of North America's greatest predators. Throughout the day various rides, demonstrations and activities are offered. Be sure to pack a picnic lunch and spend the day with us and enjoy our animals.
Included in your Admission Ticket…

"Hands-On" Petting Area
Pony Rides* (75 lbs and under)
Tractor Train Rides*
Horse-Drawn Rides*
Visit with all the Farm Animals
Explore North American Wildlife Exhibits
Picnic Areas
On the farm, we've got alpacas, beef cattle, chickens, dairy cattle, donkeys, draft horses, ducks, emu, geese, llamas, miniature horses, Katahdin hair sheep, Nigerian miniature goats, Old English baby doll sheep, oxen, peacocks, pigs, ponies, rabbits, saddle horses and turkeys.
Some of our wildlife residents include black bears, cougar, eagle owl, grey fox, lynx, porcupine, raccoon, red-tailed hawk, fallow deer and skunks.
For teachers, we have Field Trips available. You will find endless educational opportunities for your students all over the farm. Charmingfare is also a perfect place to have your child's Birthday Party. Check it out!
Rides that are running the day of your visit are included in your admission price, and are unlimited. Please be sure to note the time of operations.
Charmingfare is a working farm, during the week horse rides may not be available depending on our farming requirements. Rides, especially the horses may not operate due to weather (including heat). We always focus on making sure on the weekends all rides are available as long as weather permits.
Special Zoo Events
Through out the summer Charmingfare Farm offers events for families to enjoy. There are many Special Events for you to consider attending year round.
Our animals (especially goats, sheep and equines) participate at the Hopkinton State Fair. Please expect there to be less animals a few days before and during the fair each year.

Hopkinton State Fair
August 31 – September 3, 2018
You Should Know
Animals
We print our maps and brochures at the start of each year; however, circumstances beyond our control may change the animal inhabitants at Charmingfare Farm. Unfortunately, we cannot guarantee any particular animal(s) will be visible or on exhibit during your visit.
We deliberately allow the vegetation in our wildlife enclosures to become over grown. This practice simulates a more natural habitat, creates a sense of security and we believe the ground stays cooler aiding in the comfort of the wildlife.
The Rides
Weather is the primary reason for rides not to be operational. Rain, unpredictable thunderstorms and warm temperatures exceeding 90 degrees will cause our rides not to operate. Horse rides especially do not operate if there is a threat of rain in the forecast. We are a working farm and on a rare occasion a situation may arise that requires us not to run a particular ride.
Animal Feed Cups
We sell reusable feed cups for guests to feed our animals. You are able to feed animals (cows, alpacas, llamas, sheep, goats, ducks & turkeys) that do not have upper and lower teeth.
Please note: Animal feed in the cups DOES NOT need to meet the same standards of control as food for human consumption. Assume NO precaution has been taken towards anyone with a food allergy, especially with regards to peanuts.
Accessibility
Charmingfare Farm is for the most part wheel chair accessible. If you have any concerns or questions please do not hesitate to call 603 483-5623 x100. We are always willing to accommodate request to the best of our ability.
Parking
Parking for Charmingfare Farm is FREE for all. There is plenty of room for campers and buses.
Pets
No pets are allowed on the grounds and we are sorry but there are no kennel facilities. Certified guide/service dogs are welcomed.
General Admission to visit the animals closes for the season on Sunday, September 30, 2018. The farm does offer other events and activities through the year that may allow you the option to visit with the animals. Please explore our website for other opportunities.
* Weather permitting
Zoo Map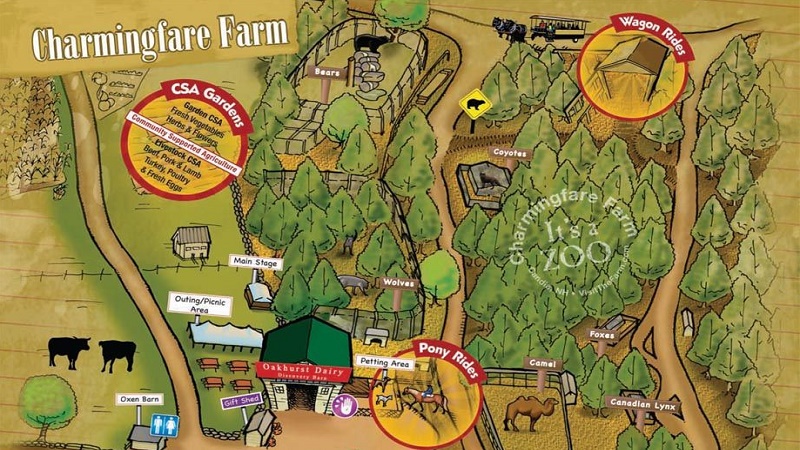 More Considerations