Mother's Day
$0.00 – $22.00
Moms who are accompanied by their children enter for FREE.
Children 23 months and under FREE.
Mother's Day
Moms Get in FREE!
Charmingfare Farm is celebrating Mother's Day by allowing moms who are accompanied by their children to enter for FREE on Sunday May 8, 2022.
Visit the farm and learn how our animal moms take care of their families. You can see our newest arrivals. Our sheep want to show off their lambs. The goats are proud of their kids. Our donkey, Jenny is a proud mom to new little spotted boy. You will be amazed how many new babies are on the farm.
Tickets Must Be Purchased ONLINE
Open – 10am to 4pm
Sunday, May 8, 2022
Included in your Admission Ticket…
"Hands-On" Petting Area
Tractor Train Rides*
Horse-Drawn Rides*
Visit with all the Farm Animals
Explore North American Wildlife Exhibits
Picnic Areas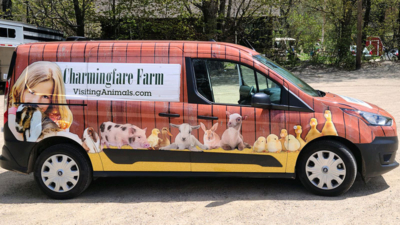 We will be setting up the farm van that travels for the "Visiting Animals" program. Look for the farm van in the outing field. Check out all the cute animals that are available to travel to your home.
On the farm, we've got alpacas, beef cattle, chickens, dairy cattle, donkeys, draft horses, ducks, geese, llamas, miniature horses, Nigerian miniature goats, Old English Baby Doll sheep, oxen, peacocks, pigs, ponies, rabbits, saddle horses and turkeys.
Some of our wildlife residents include black bears, wolf, camel, eagle owl, red fox, bobcat, coyote, porcupine, raccoon, fallow deer and skunks.
Children Wagon Rentals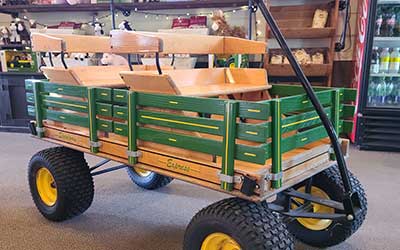 During your visit, you may ask about renting one of our wagons. Children love riding around the farm in one of these special wagons.
Admission Ticket(s) are NON REFUNDABLE once purchased. Moms who are accompanied by their children enter for FREE on Sunday May 8, 2022.

Please review our WEATHER POLICY .
(Check our website before heading to the farm when there is inclement weather, especially when temperatures are 90 degrees or higher.)

WASH YOUR HANDS after visiting the animals. Parents should supervise children's hand washing especially, before drinking or eating any food.

We cannot guarantee any particular animal(s) will be visible or on exhibit during your visit.

We deliberately allow the vegetation in our wildlife enclosures to become overgrown. This practice simulates a more natural habitat, creates a sense of security and we believe the ground stays cooler aiding in the comfort of the wildlife.

Our Animal Feed Cups DO NOT need meet the same standards of control as food for human consumption. Assume NO PRECAUTION has been taken towards anyone with a food allergy, especially with regards to peanuts.

The farm for the most part is wheelchair accessible. Please call 603 483-5623 x100 if you have any questions or concerns. We are always willing to accommodate request to the best of our ability.

FREE PARKING for all including campers and buses.

NO PETS ARE ALLOWED and there are no kennel facilities at the farm. Service animals are welcome.
COVID-19
It is extremely important for the safety of everyone you take a moment and read our requirements.