October 9, 10 & 11 (Columbus Day), 2021
10:00am – 4:00pm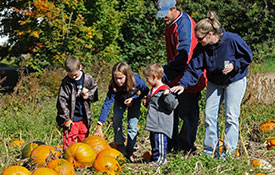 It's Pumpkin Pick'n Time
You have two options of getting your pumpkins. You can take our catch a ride to our pumpkin patch. Or you can choose your pumpkin from our Market Stand. With so many different varieties of pumpkins to choose from, you'll be sure to find one that's just right no matter what the size or shape.
Catching a ride to the patch…
This year you can choose how you want to travel to the pumpkin patch! That's right! With two separate modes of transportation, you ride the way you want. Take a look.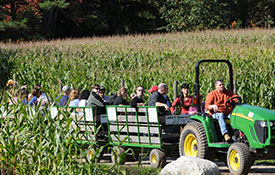 Tractor Train Ride
Climb aboard and travel to our pumpkin patch. The train ride will return you to our Market Stand located near the parking lot so you may pay for your pick'ns.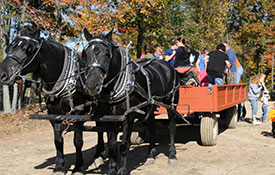 Horse-Drawn Wagons
The horse-drawn wagon rides are also headed to the pumpkin patch. The wagons will return you to our Market Stand located near the parking lot so you may pay for your pick'ns.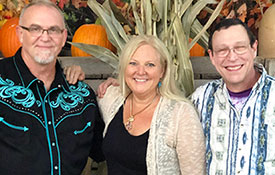 Lynda Nelson & Dan Morgan
12pm – 3pm
When solo artists Lynda Nelson and Dan Morgan combine their talents, it's a performance you won't soon forget. With notes from country, folk, and bluegrass, it's the perfect mix for a day at the farm. Both artists have a passion for performing and are fueled by their love of music and family.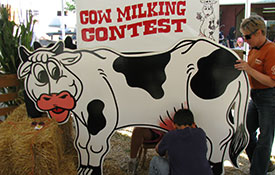 Cow Milking Contest
Challengers step up to "Ol' Bessie" and do their best to out-milk each other.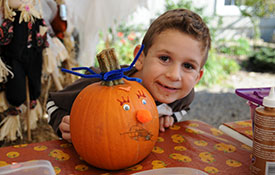 Pumpkin Art
Children can decorate their own pumpkins. This year each child will receive their very own individually packaged pumpkin decorating kit to take home. Staff will be on hand to assist with pumpkin creations.
($8 when purchased online, includes a sugar pumpkin)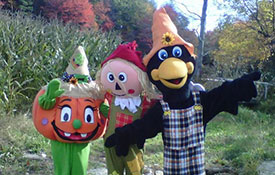 Costume Character
Look for one of our various character strolling about the event during your visit.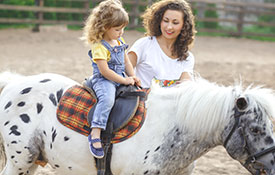 Pony Rides
Children must be 75 pounds or under and accompanied by one parent.
($8 per ride when purchased online)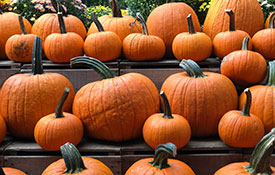 Pumpkin Market
Don't miss our Farm Market. We'll have beautiful seasonal decorations. Pumpkins, mums and asters, corn stalks and gourds, plus novelty items all at affordable prices. We even have hot cider and snacks available.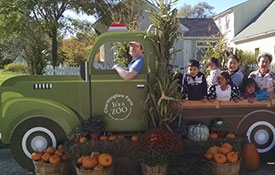 Photo Opportunities
Don't forget to bring your cameras along. There are great photo opportunities throughout the farm.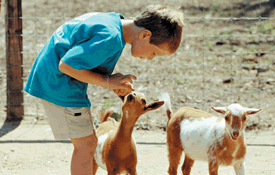 Visit the Animals
Both the Barnyard and North American Wildlife Exhibits are available during your visit until 4pm.