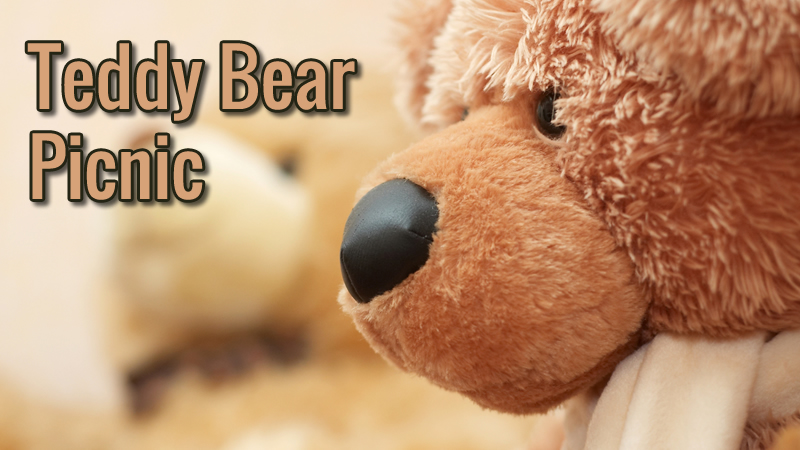 Buy Teddy Bear Picnic
$19.00 Per Person
Saturday, July 7, 2018
10:00am to 4:00pm
Children 23 months and under admitted FREE
Click BUY NOW above for available times
Don't forget to bring your Teddy Bear!
In honor of National Teddy Bear Picnic Day, we will be hosting our own bear picnic here at the farm. Children and adults alike should plan on visiting Charmingfare Farm on Saturday, July 9th from 10:00am to 4:00pm. Bring the whole family and be sure to bring your teddy bear so s/he can participate in the celebration as well.
In case you've forgotten, it's time for Teddy's annual doctor's visit. So we've scheduled the doctor to be here to do check ups on your furry friend! We will have all sorts of bear games, a game of hide and seek teddy, an amazing teddy bear parade, and throughout the day you can meet with our black bear keeper. It is a picnic after all, so be sure and pack a lunch; or better yet enjoy our charcoal broiled hamburgers and hot dogs.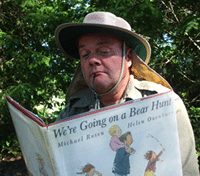 Activities Schedule
Story Telling
Join Dr. Byron, the Bygundo Bear Catcher as he performs a dramatic reading of Going on a Bear Hunt as only he can do it! If you've never seen Dr. Byron before, you have to catch this. Plus he'll offer all sorts of fun facts about bears, bear catching, and life as a naturalist.
12:30pm to 1pm
Meet The Black Bear Keeper
Learn all about the care and life of the real black bears in the wild.
11:30am and 2:30pm
Bear Games
What the heck are bear games? Stop by and find out (but you'll love them)!
12:00pm-12:30pm, 2:00pm-2:30pm
Teddy Bear Parade
This is your opportunity to proudly join our parade with your Teddy by your side.
1:30pm
Teddy Bear Check Ups
The teddy bear doctor will be on hand to be sure everything is well with your teddy.
1pm-1:30pm
Hide'N Seek Teddy
Who doesn't like a good game of hide 'n seek?
11am-3pm
Pony Rides
Just the right size for your little ones, and a great experience for them too!
11am-12pm, 12:30pm-3:30pm
Tractor Train Rides
One of the kids' favorites every time! Don't miss this.
11am to 3pm (departs on the half hour)
Horse-Drawn Rides
A comfort tour throughout the farm.
Continuously between 11am to 3pm
Cookin' on the Grill
Bring your appetite because we're serving up hot dogs and hamburgers cooked on our grills. Additional costs for food items.
11:30am to 2pm.